Improving your playing is rewarding in and of itself, but a big part of the reward is getting a chance to play with others. An earlier article talks all about hosting a session at your house, which is one great way to play with others, but here I'd like to encourage you to consider playing out in your community.
You don't have to be at a professional level to play for people who would really appreciate your music, and it does wonderful things for your playing. Here a few thoughts on where to play, and how to get ready for it.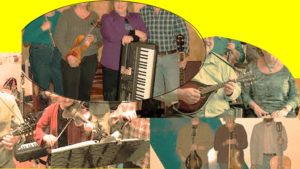 You'll want to pull some music together with one or more friends. Keep in mind that multiple fiddles tend to average out in sound, so don't worry about a few mistakes here and there, or about a few bad sounds. When you play with others, it averages out into a nice sound. The big goal is to play in time, so you can stay together, and so that listeners can tap their toes or sit back and enjoy a slower tune. They won't care about a few bad notes! So pull together another fiddler or two (or more) and a backup person — guitar is the most portable. You could even host some sessions in order to find the right people to make a good mix, and a good mix is more about compatible people than it is about what level the players are. If you have fun playing together, the listeners will love it.
I will say right now that I know someone who is, frankly, a terrible fiddler, and yet he has ventured out and played at some community functions where people loved having him and asked him back with his small group.
You'd be surprised how many opportunities there can be for playing your music. Nursing homes love to have some entertainment, and if you want to play but don't care about the money, or are willing to do it for free, they would love to schedule you in, and the listeners will be grateful for whatever you can offer. There is nothing like live performance, and the fun and energy matters more than anything approaching perfection.
Many community organizations or churches look for live music for events they plan. There might be a luncheon or dinner or raffle and they want a little half time music, or some background music for a cocktail hour. Some aren't looking for great players, and would rather have somebody local than somebody high profile and expensive from somewhere far away, unless the event is actually focused on having a musical concert. Some cemeteries have community groups that sponsor annual memorial events where they'd like a few slow airs played at beginning and end.
There are also individuals who plan private parties for family members and want a few tunes played. If you have a little group and put up notices that you're available, somebody is likely to ask you about it. You don't even have to put up notices — often if you play for one event, somebody there will ask you to play for something they're planning as well.
Playing for a wedding, funeral, dance, or concert will require a little higher level of musicianship but if your group has a couple of good players, you can add in without harming the sound and will learn a lot from the experience.
If you're not sure about it, just start by playing for free at a church function, or a community or school fair. As you see how much people appreciate your music, you'll find out what they might like to pay you to entertain at their own event.
To prepare for a performance, you can start by just planning about a half hour to forty minutes of music, which translates into about 6-10 medleys of 3-4 tunes each. You can read an earlier article about putting medleys together, and you can choose how many times you want to play each tune. Some people play each tune twice, but it can be nice to settle in for 3 or 4 times each, especially if you vary it a bit by featuring different players, or adding a harmony here and there. Be sure to vary your repertoire, including some slow, some moderate, some quicker tunes, like jigs and reels. If you're playing for a particular group or age level, you might find out some song tunes that they particularly like; they might even sing along if invited to!
Once you think about playing out and about, you'll start noticing opportunities all around you! Playing with others is really fun, and playing for appreciative listeners pushes you to provide a real community service and share your music with your neighbors. It will also improve your playing by leaps and bounds.
©2019 Ed Pearlman