How we think about musical mistakes has a huge impact on how we practice, how we learn, how we perform.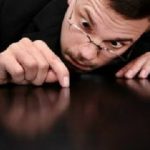 How do you think about making a mistake? We all think differently. For you, does making a mistake feel dangerous, like falling off a bicycle? Scary and disorienting, like finding yourself on the wrong path in the woods? Painful, like tripping on a tree root while hiking? Frustrating, like hitting the wrong floor button in an elevator? Hard to erase, like dropping the wrong ingredient into a recipe?
Or is it something that passes by, like saying the wrong word, or missing a fly with a fly swatter?
How you think about mistakes determines your response to making them.  Some players seem so worried about hitting the wrong note or making a bad sound that their playing sounds like they are tiptoeing through the music, afraid of being mugged by a mistake. Since there are always going to be mistakes, their fear is bound to be realized sooner or later!
The main thing to remember is that the greater musical skill is found, not in avoiding mistakes, but in recovering from them — staying on track, keeping the music going. To do that, you need to have a sense of where you are in the music, to keep it going in your head, in your body (feeling and trusting the beat). The fingers don't always cooperate, but we don't have to allow them to hijack a performance.
This is one key benefit of learning tunes by phrase, as can be found throughout the fiddle-online.com site — this helps you keep the structure of the tune in mind, and helps you get back on track, rather than be derailed by missing a note or two.
As listeners, dancers, or fellow bandmates or session players, we want musicians to play with confidence. A wrong note doesn't stop us from tapping our toes or nodding our heads with the passion of the music. But a timid or fearful sound, or fuzzy timing, does affect us with uncertainty, and it's hard to feel the music when you're not sure it will carry through to the end.
Ultimately, of course, it's not the mistakes or the missed opportunites we care about, but the performance, the music, the flow and the spirit of it. The goal is to allow the music to flow, and studies have even measured the healing effects of flow in music.  One study about how people engage with music said, "Playing and performing music has the potential to induce a flow-like state".  Another study looked into the effect of flow in music.
If you are a worrier about making mistakes, just consider the listener's point of view— it's not what was missing that we remember, but what was there.
©2018 Ed Pearlman