There is a common presumption that learning a piece of music is processed in this order:
1.  The mind tries to understand what's going on through analysis, reading, listening to the teacher.
2.  The hands are told by the brain what to do so they can practice and learn their job.
3.  The ears serve as audience and judge to see how it comes out.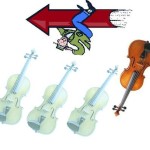 More and more, I have come to realize that this presumption only creates frustration.  For example, some people have trouble being asked to play a note if they do not understand why or how it fits into what they're working on.  Others might go over a phrase of music several times successfully, and then look up and say that they don't know how to play it.  A fiddler may play several notes of a musical phrase and have their fingers poised correctly for the next note, but feel they can't play it because they don't "know" what comes next.
Some need to read the music and feel confused if asked to play even a few notes in a row without reading them.  Others may be in a class which is playing a phrase of music around them, and even though the teacher has just described how to start playing it, they balk because they don't "know" what to do.
What is going on here?  Maybe that presumed order of learning music is not actually how it works.  Maybe there is a mismatch between expectations and reality.
Here's how I think the process actually works: