Most fiddlers leave their left hand in the same place all the time, in what classical players call "first position."  You can get by very well this way, but there are some great tunes that make us play higher up the neck.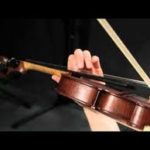 Let's take a look at several different ways to play those higher notes. If you already have a way to do it, this article might give you a few new ideas to try, and if you tend to avoid those higher positions, read on — it's not that hard to play higher if you find an approach that suits you, and practice doing it a bit. We'll be talking about ways to "crawl" up the neck as well as exercises for learning to shift positions.
Before Louis Spohr invented the chin rest in around 1820, I suspect that violinists and fiddlers held their instruments the same way. According to the great violinist Ruggiero Ricci, they used to hold the neck with their hand, with the thumb partway up the neck. They had to reach back to play the normal first-finger notes, but they were able to crawl up the neck with their fingers and play high notes without moving their thumb. Apparently the virtuoso Niccolo Paganini once said his secret was that he had only one hand position.
After the chin rest was invented, violinists held the instrument with their chin or jaw, which freed up their hands to shift up and down the neck by bending at the elbow and keeping the fingers and thumb always in the same relative position. But I suspect that most fiddlers continued with the old way of holding the neck with their hand, and moving their fingers around while their thumb stayed put. This might have required that their left hand collapse at least partway at the wrist in order to reach back to first position — a position classical teachers frown on mightily these days.
Whichever way you hold your left hand, the old idea of "crawling" up the neck with the fingers is very useful and worth learning. "Crawling" refers to  Continue reading Playing those higher notes