Here's how to have a happy new year — kick it off with a year-ful of jokes!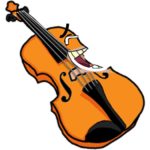 Did you hear about the farmer who played fiddle out in his cornfield? It was music to his ears.
What muscles do you use most when you cross a fiddle with a pig? The hamstrings.
How do you end up with a million dollars playing the fiddle? Start with 2 million.
The fiddler asked his friend if she'd heard his last show. She said, "I hope so!"
The boy told his mother, "When I grow up, I'm going to be a fiddler." His mother said, "Honey, you know you can't do both."
How do you protect a valuable fiddle? Hide it in an accordion case.
When is a fiddler considered successful? When his wife has a really good job.
St Peter welcomed three new souls to heaven. "What did you each do in life?" he asked. The first said Continue reading A Year-ful of Laughs