Our live workshops on fiddle-online will take a break from June through August, but there's lots to do here! Don't forget to consult the Quick Guide at the left of the home page to help answer any questions you may have.
Instead of joining us for the live workshops, why not use this summer to catch up on past workshops? Click on the blue "Workshops" bubble on the home page and then click on the blue button that says "Click to see what's available."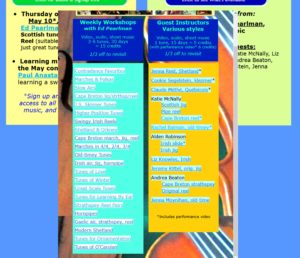 There are two kinds — the left column shows buttons linking you to information about 23 regular Thursday workshops. Each has materials from at least 3 workshops, arranged by the topic of the month. Many seem self-explanatory but if you click on them you will be able to hear an audio sampling of the tunes and see a description of them.
Some of the titles of the workshops are not so self-explanatory. For example, "Tunes for Ornamentation" offers two slow airs, a jig and a reel as vehicles for learning and making use of different kinds of ornaments. "Tunes of Love" presents Continue reading What to do this summer!