The violin bow is an amazing contraption. Pick one bow up after another, and they pretty much look the same, but they may feel light or heavy, even though the difference in weight could be a tenth of an ounce (3 grams). More astonishingly, when you try playing with various bows you'll find some that actually sound a lot better than others.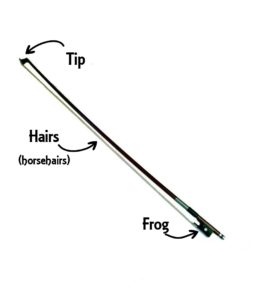 I remember making a number of drawings of violins and bows many years ago. Bows are very difficult and frustrating to draw because they so long, thin, and seem almost uniform in shape. The stick has a subtle arc to it, called the camber, which can be beautiful but tricky to draw, as it gently curves toward and away from the hairs. It's a bit more interesting to draw the gracefully shaped tip, and the black curved block of ebony at the frog. ("Frog" is horse terminology — the bow hairs come from a horse's tail, and the frog is named after the part of the horse's hoof that's in the middle of the horseshoe).
When you try playing with different bows, you find differences in responsiveness partly because of the type of wood and the quality of the carving, which affect the strength and springiness of the bow stick. A very weak stick could easily touch the strings with some pressure, and if the hairs are tightened too much, the stick might even arc the wrong way (away from the bow hairs). The camber of the bow, the way the stick curves toward the hairs, allows you to control the tension of the hairs against the strings.
I always recommend Continue reading The Amazing Bow!