When you click on "Sheet Music" on the home page, you are taken to the world of the Tune Groups. Each of these gives you interactive sheet music and audio for a dozen tunes for 3 months. If you learn all 12 tunes, that's a tune a week!
I'll describe below how these work, but keep in mind that this interactive sheet music format can be found in all of the Workshop materials as well! A sample of this kind of sheet music is linked prominently in pink on the Tune Groups information page.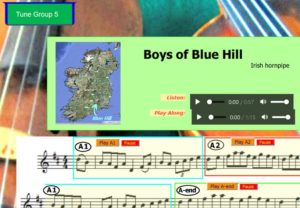 What tunes will you find in these tune groups? Tune Group 1 offers a nice mix of Celtic, American, and Canadian tunes, and also is good for beginners because it's the only group that offers both the sheet music and music by numbers. Tune Group 2 continues with a nice variety of tunes — Scottish, Irish, American, and Quebecois. Tune Group 3 is all about Scottish tunes, and Tune Group 5 contains popular Irish tunes. Tune Group 4, Shetland tunes, is currently only available on my old site and works great but only if you can use flash media; it will eventually be added to fiddle-online so it can be used by all devices.
Here's how it works. With each Tune Group, you get access to that tune group's home page, with links to each of the 12 tunes in that group. When you visit one of the tunes,