Most fiddlers leave their left hand in the same place all the time, in what classical players call "first position."  You can get by very well this way, but there are some great tunes that make us play higher up the neck.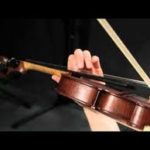 Let's take a look at several different ways to play those higher notes. If you already have a way to do it, this article might give you a few new ideas to try, and if you tend to avoid those higher positions, read on — it's not that hard to play higher if you find an approach that suits you, and practice doing it a bit. We'll be talking about ways to "crawl" up the neck as well as exercises for learning to shift positions.
Before Louis Spohr invented the chin rest in around 1820, I suspect that violinists and fiddlers held their instruments the same way. According to the great violinist Ruggiero Ricci, they used to hold the neck with their hand, with the thumb partway up the neck. They had to reach back to play the normal first-finger notes, but they were able to crawl up the neck with their fingers and play high notes without moving their thumb. Apparently the virtuoso Niccolo Paganini once said his secret was that he had only one hand position.
After the chin rest was invented, violinists held the instrument with their chin or jaw, which freed up their hands to shift up and down the neck by bending at the elbow and keeping the fingers and thumb always in the same relative position. But I suspect that most fiddlers continued with the old way of holding the neck with their hand, and moving their fingers around while their thumb stayed put. This might have required that their left hand collapse at least partway at the wrist in order to reach back to first position — a position classical teachers frown on mightily these days.
Whichever way you hold your left hand, the old idea of "crawling" up the neck with the fingers is very useful and worth learning. "Crawling" refers to  sliding a finger up a half step and playing from that new place. As I mentioned, "first position" is what most fiddlers use all the time. It's the one where you can play a scale from open string to first, second and third finger, then move to the next open string to continue the scale. "Second position" is where your first finger is anchored where your second finger would normally be. "Third position" finds your first finger placed where your third finger would normally be, and this is the most common higher position taught to classical students. In fact, I have noticed players using third position for tunes that only need second position, because they were classically trained at one point, and are more comfortable in third position than second.
Crawling can get you wherever you want to go without actually worrying about those positions. For example, if you start on the open G string, play a major scale, and slide your finger up the string one finger's width every time you reach a half step in the scale, then by the time you reach the E string, you will find yourself in seventh position without ever having officially shifted your hand!
One group of past workshops on fiddle-online focuses on three great tunes that reach into higher positions; in the workshops, you practice crawling or moving just slightly, into second position as needed. You can learn more about this set of tunes at this link if you're interested. One of the tunes in that group is the popular "MacArthur Road" which goes up to a C# on the E string in the B part. You'll see many classically-trained fiddlers go into third position at that point, but it's easier and more reliable to crawl up into second position as needed. With judicious use of open strings and reaching or crawling, you can find a way to reliably reach the notes you need without losing your anchor in nearby first position.
Some fiddlers don't number their positions as classical players do. I remember the great fiddler Richard Green speak about this. He used to play with Bill Monroe, the father of bluegrass, and also had his own popular band in the 1970s called Sea Train. Richard thought of positions in terms of the keys they helped him play. For example, if I recall our conversation correctly, I believe he called second position the "C position" because you could reach two octaves of the C scale from that position. Once he was in that position he could easily play in C without having to move around.
If you make use of the scales, arpeggios, and other finger patterns in Technique Video Group #4, you will come across a video helping you practice the finger position for scales beginning on the first finger. Once you get used to that finger position, using the fourth finger instead of the open strings, you can play anywhere up the neck by placing your first finger on the key note and going from there with the finger patterns you've learned.
To practice shifting to a higher position without crawling, try this exercise: Play, on one bow, and on one string, your first finger note followed by your third finger note, then on the next bow, play third to first. With that fresh in your ears, play the same notes but on the first bow play first finger, then bend at the elbow and slide your first finger up to play the third finger note. On the next bow, play that new note and slide back to the original note. The idea is the bend at the elbow and shift your whole hand and thumb as one unit up and then back. Alternate playing 1 to 3, and 3 to 1, with playing the same notes 1 (first position) to 1 (third position), and then 1 (third position) back to 1 (first position). Once you get comfortable finding the higher position, you can experiment with putting down a different finger once you get there. Here's what the exercise looks like in written music:

©2018 Ed Pearlman