You can learn a lot from writing tunes.  It doesn't matter if you think you can or not.  Just do it!  Allow yourself to write a few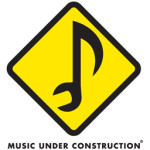 bad ones before you make a gem of a tune.
Here's why you should try writing a tune:
It's fun.
It's easier than you think (see below).
You get a better sense of how tunes are constructed, by phrase and part.
You learn a lot about why tunes are written down the way they are, and why there's always more to a tune than can be written.
You get to name your tunes after somebody or something important to you (or name it something silly).
You learn about how music is written down.
Here's how:
Continue reading Writing a Tune