My friend Mary was once cornered by a 4th grade student who told her, "You're pretty smart, for a music teacher."
Mary asked the little girl why she thought most music teachers weren't so smart.
"Because you only teach singing and playing instruments.  Can you multiply?  Can you divide?  Can you do fractions?"
This tells us quite a bit about our compartmentalized world!  The little girl was learning about music but was not aware of the connecti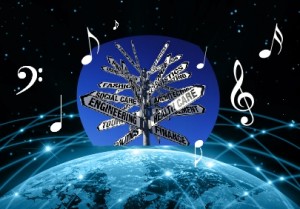 ons music has with everything else.
Linking music learning to people's work lives, to school subjects, to decisionmaking, to learning — all these help people learn music better, and makes for better-rounded individuals.
Below are some connections that might provide food for thought on this subject…