Taking an online class is pretty easy on fiddle-online.com  — here are some pointers about making them fit your needs.
Technology
It's easy — when you sign up for a class, you'll find yourself on the class page where there's a link.  No Skype calling or anything — you'll just click the link at class time and join in.  For details and first time users of Zoom, see this page.  "Signing up" for Zoom can be done in advance or when you go to class, and takes a minute just to enter email address and the name you'd like other people to see when you're onlin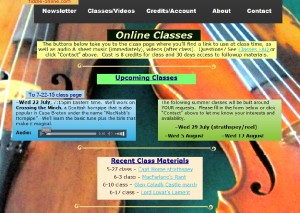 e.  You'll need a computer, tablet, or smartphone with a camera and mike, which they all have nowadays.
Content
Before signing up for a class you can hear an audio sample of the tune we'll work on.  The class is never about just getting the notes; it's about ways to understand, remember, phrase the tune, and how to think musically about it.  Technical ideas are integrated, and often relate to some of the technique videos available on this site.
Sheet Music
As soon as you sign up and go to the class page, you'll have access to sheet music and audio of the tune in question, in case you wish to take a look before, during, or after class.  You get the most out of classes, though, if during class you try to learn by ear.
Format
You see the teacher and other students on your screen, can speak or play any time, except at a few times Continue reading Pointers about Online Classes