The word "practice" can be exciting for those who think of it as a chance to nail down skills and improve, or to feel more in control. For others it conjures up ye olden times when parents or teachers forced them to practice as if playing music was just more homework for school.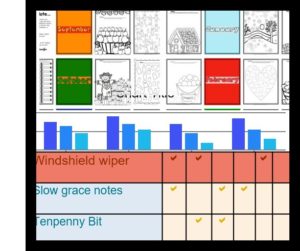 The bottom line is that the more you play, and the more mindfully you play, the better you get. When you sense your progress, it's very rewarding. Not that anybody feels they practiced enough — that's one comment I've never heard from a student! Usually I hear "I played it better at home!" — which is what the fiddle-online.com T-shirt says. (In fact, we have a brand new blue design you might be interested in!)
The problem is that many really useful exercises or practice sessions don't give immediate results, even if you know they're doing good things for you.
One way to make the results from practicing more tangible is to use practice charts, which can be combined with some nice rewards (some need nothing more than chocolate!).
Practice charts aren't just for kids, and don't need gold stars or silly stickers, though making them colorful is a really good idea. What charts do best is to remind you of how much you've done, and how well you've done it. They also give you a chance to think about, sort through, and write down the skills and tunes you are hoping to work on.
Try listing some of the exercises you'd like to do. There are quite a few in the Technique Video Groups that are simple, physical, some only 30 seconds long or less, and yet really helpful in building awareness and skill. You can list these on your chart, and simply check them off on the day you do them. This makes for a tangible result from simply doing those exercises. Otherwise you may do them but not notice whether they helped, and may wonder what good they are, or whether they are worth it. Over time, doing these exercises regularly will do wonders for your playing, but this is hard to notice from one day to the next, so mark it down, and check in after a while to take note of your progress.
Also use your practice chart to list some of the tunes you'd like to go over. One really helpful way of marking down your practice is to grade yourself each time you played a tune. The obvious reason for this is to display to yourself that you've practiced that tune, but there's actually another less obvious benefit to grading yourself. Marking down not just that you did it, but how well you did it, whether you use a number or letter or even a smiley vs frowny face, gives you permission to play it badly! It still means you've practiced it. You don't have to do it well every time. And when it gets better, you'll see it, right on paper.
You might even add a chance to grade yourself on the quality of your practice session, and give yourself extra points for frequency. In my view, frequent and regular practice ends up feeling more rewarding, and yields more results, than holding off until you can spend a lot of minutes practicing at one time.  In fact, counting minutes of practice can distract from the pleasure and the task at hand.
The most basic practice chart simply shows whether you picked up your instrument and played that day. That alone can feel great, when you see a sea of checkmarks showing that you've been playing music.
In addition to seeing that you've practiced, a chart also gives you a great excuse to reward yourself when you've filled in a whole chart. What can be more fun than thinking of your favorite rewards, and then earning them? Rewards can be creative and fun, a great incentive to play more.
One method of triggering a reward is to try lighting a candle every time you practice, then blow it out when you're done. When the candle is used up, you deserve a reward. A nice smelling candle can also make practicing especially fun.
Give it a try! You could use an app, or a spreadsheet, though the simplest and probably most grounding method of charting practice is on something we call "paper", and the more colorful, the better.
If you have tried ideas not mentioned here, feel free to add a comment. It could be helpful to everyone!