The support materials from our live workshops are extensive — performance and teaching videos, interactive sheet music with self-repeating audio for each phrase, a listening track, a playalong track, and often, additional information, audio and links. All of this is always available, whether you were there for the workshop or not.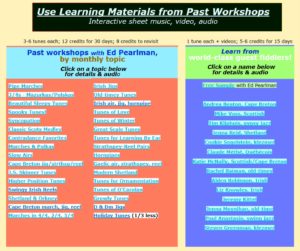 As of the end of 2019 there are 36 past monthly workshop topics, each presenting 3-6 tunes and techniques for learning and playing them. There are also 28 past guest workshops presented by 18 different instructors.
We've covered many different kinds of tunes — slow airs, marches, strathspeys, reels, jigs, waltzes, mazurkas, jazz standards, klezmer ballads, hornpipes, polskas, and polkas.
Fiddling is fascinating because it is local music from around the world, and our workshops have addressed a variety of styles, often presented by guest experts — including Scottish, Irish, old-timey, Cape Breton, Shetland, Québécois, jazz, klezmer, contradance, Swedish, Danish, plus original contemporary tunes taught by the composers.
Below are some links to help you get more info and audio samples about these offerings.  In this and the next few articles, I'll be providing links to info and audio samples for past workshop materials by style and type of tune. Check them out and learn more about them!
As I mentioned, there nearly a dozen styles of fiddling represented here. Let's start with some links for the Scottish tunes, since that's my own specialty, though I enjoy, play, and teach other styles as well.  And by bringing in top fiddlers from other styles for guest workshops, we learn from the best.
If you enjoy or want to learn about Scottish fiddling, below are some of the offerings in that style; click the links to see descriptions and hear audio samples:
Classic Scots Medley, suitable for competition, with ideas on how to put a medley together
Pipe Marches — beautiful 6/8, 2/4, and 4/4 marches
J.S. Skinner tunes — a pastoral, strathspey and reel
Shetland and Orkney tunes, and a group of modern Shetland tunes
Tunes of Love, including Robert Burns, a Gaelic jig, and a pipe tune
Strathspey-Reel Pairs, how to learn and move from one to another (6 tunes)
Gaelic air, strathspey, reel, focusing on beautiful music from Gaelic song tradition
Each of the following also includes a concert video:
Shetland tune taught by Jenna Reid of Blazin' Fiddles and Rant
Several workshops by Katie McNally: Shetland tune, Skinner jig, and pipe reel
Gaelic dance tune taught by Mike Vass from Scotland
Orkney strathspey taught by Alistair McCulloch
There are also some Scottish tunes included in many of the tune videos, which include both basic and advanced videos (and cost only 2 credits!). Tune Group 3 presents 12 Scottish tunes, and a few others can be found in Tune Groups 1 and 2. Tune Group 4 is entirely comprised of tunes from Shetland, which is a part of Scotland (though only for the past 600 years…).
To see links for Irish, Old-timey, American, Jazz, Scandie, Quebecois, Cape Breton, Klezmer tunes, just click here for the next article!
©2019 Ed Pearlman