Last time we talked about finding the support materials you're looking for to learn different styles of tunes on fiddle-online.com with a bunch of links to the Scottish tunes you can find here.
This time we'll provide easy links to find lots of other styles of tunes.  When you look at the Past Workshops, you can also check out tunes based on the types and purpose of tunes, such as tunes to help you learn by ear, tunes to help learn ornamentation, a set of tunes teaching higher finger positions, and a group of tunes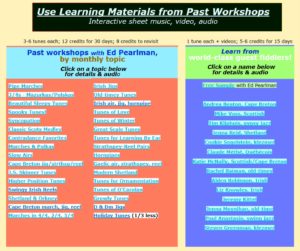 focused on syncopation.
Below are links for audio and info about learning Irish, Old-timey & other American trad tunes, jazz fiddle, Scandie, Quebecois, Cape Breton, and klezmer tunes!
Don't forget that the guest workshops include a concert video as well.
Looking for Irish tunes?  Check out the following: Tune Group 5 offers 12 great Irish tunes; Liz Knowles's guest workshop with variations, bowings and ornaments; a jig and slide taught by Alden Robinson; an original by Gráinne Brady; a set of three O'Carolan tunes; some challenging Irish reels that can be played swingy if you like; a beautiful Irish air, jig and hornpipe; a set of 3 Irish jigs; jig ornamentation including rolls; an Irish reel or jig along with other tunes.
Old-timey & American tunes:  Rachel Baiman teaches a couple of old-timey tunes; Jenna Moynihan teaches a tune; 3 old-timey tunes including Bruce Molsky bowings; several old-timey January reels; a set of contradance favorites; an American waltz.
Jazz:  master swing jazz fiddler Tim Kliphuis from Amsterdam performs and talks extensively about jazz fiddle and teaches a tune, with exercises including a solo version and several riffs to practice; swing fiddler Paul Anastasio teaches a jazz standard
Scandie tunes: check out a Swedish polska and a Danish polka
Quebecois:  Learn a couple of tunes from Claude Méthé; learn Reel St Joseph or Reel de Montreal or Growling Old Man, Grumbling Old Woman.
Cape Breton tunes:  Learn some tunes from Cape Breton fiddler Andrea Beaton; a strathspey with Troy MacGillivray; learn a John Campbell reel from Katie McNally; learn a jig, strathspey and reel; learn a march, jig and reel; or a Jerry Holland waltz; learn the slow air Bonnie Lass of Headlake; pick up a great pipe march that Buddy MacMaster recorded.
Klezmer:  Learn a tune, style and mode from Cookie Segelstein; a traditional-style original by Steven Greenman. and a slowish hora from Jonathan Cannon.
Enjoy the tunes & techniques!
©2019 Ed Pearlman