When you log in to fiddle-online.com, you are taken directly to your own personal home page. You'll see your name listed, your current number of credits, and a number of other features: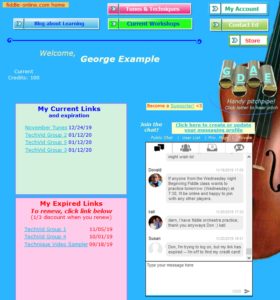 Green box — shows links to the materials you are currently signed up for and their expiration dates.
Pink box — shows expired links — clicking on any of these will renew those materials at a 1/3 discount.
Chatbox* — chat with everyone or anyone and view messages from others. More details below!*
Pitchpipe — use it to tune your fiddle! Just click on the letter of the string to hear an endless loop of a fiddle playing that string until you click "stop".
Supporter link — click this to donate $ or credits to help support the site, and receive occasional emails (2-3 per year) about what's going on behind the scenes with an invitationto provide any feedback you may have.
Links in the Top area:

Orange "fiddle-online.com home" button — takes you to the general home page
"Blog about Learning" button — takes you to the blog for the latest article, archives, and a search box
"Tunes & Techniques" — takes you to a page with links to Past Workshop Materials, Tunelearning Pages, Tunelearning Videos, and Technique Videos. Explore them all!
"Current Workshops" — takes you to info about upcoming workshops and materials
"My Account" — click here to view your accounts page, allowing you to purchase any number of credits or to subscribe; you'll also find there a list of all credit purchases you've made, and a link to viewing and editing your credit card details, password, username or email. This page also shows a chart listing what's available on the site and the costs.
"Contact Ed" — takes you to a contact form to ask any questions or express any requests or suggestions. This page also links you to info about all the fiddle-online instructors.
"Store" — Visit this page to use your credits to purchase gifts, products, services including online private lessons (from 15 minutes to 1 hour), T-shirts, Finger Finders and CDs.
*How to use the Chatbox
Simply type into the white area at the bottom of the chatbox where it says "Type your message here" and click on the triangle at bottom right to send the message to anyone who views the chatbox on their home page.  To send to specific people, see below.  Note that you see previous messages by scrolling back through them.
Above the chatbox is a yellow link for you to create or update your messaging profile — click here to enter a nickname for yourself, to upload a little image of yourself, and if you wish, a brief description of yourself for others to get to know you.  Note that if you click on a person's name in the message box or user list, you'll see their profile and learn a little about them!
At the top of the chatbox are four tabs —
"Public Chat" is the default, for communicating with all viewers.
"User List" is the second tab, allowing you to find other users of the site — at the top right is a search box to find someone specific, or you can scroll through. If you click on the little bubble below the person's name, you'll be able to send them a private message (the 4th tab).
"Private Msgs" will display private messages received by you, if any
"Private" tab shows private messages you have sent, if any, with a chance to send a new one at the bottom to the most recent person you selected
©2019 Ed Pearlman