Our live workshops on fiddle-online will take a break from June through August, but there's lots to do here! Don't forget to consult the Quick Guide at the left of the home page to help answer any questions you may have.
Instead of joining us for the live workshops, why not use this summer to catch up on past workshops? Click on the blue "Workshops" bubble on the home page and then click on the blue button that says "Click to see what's available."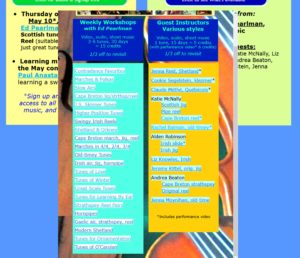 There are two kinds — the left column shows buttons linking you to information about 23 regular Thursday workshops. Each has materials from at least 3 workshops, arranged by the topic of the month. Many seem self-explanatory but if you click on them you will be able to hear an audio sampling of the tunes and see a description of them.
Some of the titles of the workshops are not so self-explanatory. For example, "Tunes for Ornamentation" offers two slow airs, a jig and a reel as vehicles for learning and making use of different kinds of ornaments. "Tunes of Love" presents an air, a jig, and a reel, connected purely by their titles about love or lack thereof. "Tunes of Winter" offers five different tunes, with titles related to January or winter thoughts, including two very different tunes that are both called "Cold Frosty Morning", one an air and one a reel. "Great Scale Tunes" focuses on tunes that are built on different kinds of scales, so you can work on learning scales, possibly with help from Technique Video Group 4, and apply them to four tunes making prominent use of major, minor, and pentatonic scales. "Tunes for Learning by Ear" provides audio and phrases for a reel, jig and a waltz, in such a way that you can't read through the tune — you have to understand the structure of the tunes, and mentally organize the phrases, to help you better identify what you're hearing when you learn by ear (the sheet music is also made available but you have to seek it out!). "Strathspey-Reel Pairs" gives you three pairs of strathspeys that each work into a reel, an essential and exciting transition in Scottish fiddling.
All these workshops include multiple tunes and techniques taught by Ed Pearlman, but if you look in the column on the right, you can select from among 15 different workshops taught by world class guest instructors. The ones with the asterisk include a video of our guest's 15-minute concert, and all feature interactive sheet music with audio by phrase, listening and playalong tracks and a teaching video by our guest. Learn tunes in many styles — Shetland, old-timey, klezmer, Scottish, Irish, Cape Breton, Quebecois, swing jazz, and some original tunes. Guests have joined us from Scotland, California, Louisiana, Massachusetts, Maine, Quebec, and Nashville. They include Jenna Reid, Andrea Beaton, Claude Méthé, Katie McNally, Alden Robinson, Jeremy Kittel, Liz Knowles, Cookie Segelstein, Rachel Baiman, Paul Anastasio, and Jenna Moynihan.
Since the monthly workshops offer more tunes, they cost 15 credits and give you 30 days to work on them — to revisit them at any time, they cost only 10 credits. The guest concert/workshops that include a concert video as well as a teaching video and interactive sheet music cost 6 credits for 15 days and cost 4 credits to revisit. The ones that don't have the concert video are 5 credits, 3 to revisit.
You can sign up right from the info page about each workshop, or click the "Not Now" button to return to the list of available workshops. If you don't have enough credits, you'll want to visit the Credits page to get more — that page will tell you how many credits you have and gives you a chance to purchase any number that you may need by entering the number in the box before purchasing.
Set up your own curriculum this summer, and learn some new tunes and techniques from our past workshop materials!
©2018 Ed Pearlman