Ed Pearlman has taught and performed fiddle throughout the USA and in Canada and Scotland, working with all levels and ages for 35 years. For advanced students and in performance, he has specialized in Scottish fiddle music but has experience in various styles.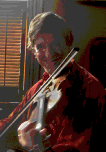 Primary Instructor, Ed Pearlman
"I think I've learned more from Ed than I have from any of the instructors I've had in the past (and they were all awesome too!)" –Swannanoa fiddle camp student
"Everyone was very impressed with Ed - both his teaching and his playing - and he certainly taught me more about how to use a bow in 20 minutes than I was able to teach myself in 5 years." –Student at Blazin-in-Beauly fiddle camp, Scotland

"I have so enjoyed the Fiddle-Online experience. I look forward each week to spending this time with my fiddling peers from all over the country. And by the way, if i can handle the online technology, anyone can!"
–S. Merrow, East Haddam, CT
"I really like being able to watch and hear Ed play and then to have the opportunity to ask any questions I might have or to ask for a repetition of something if I need it. Overall, it's an enjoyable, low-key way to learn in your own home with a professional musician and teacher as a guide!"
–M. Winn, South Portland, ME
Jenna Moynihan specializes in Scottish, Appalachian fiddling, playing in a duo with

Scottish harper Mairi Chaimbeul, with Laura Cortese's Dance Cards, Darol Anger & The Furies, and with Old Blind Dogs, Bruce Molsky, Matt Glaser, Kimberley Fraser, Phil Cunningham, and as a soloist at Symphony Hall with the Boston Pops.
Jeremy Kittel is an American fiddler, violinist, and composer fluent in multiple musical genres. His original music draws from traditional roots, jazz,

Celtic, Classical, electronic, and more. Kittel performs with his own band, spent 5 years with Grammy-winning Turtle Island Quartet, and has worked with such artists as Aoife O'Donovan, My Morning Jacket, Camera Obscura, Yo Yo Ma and the Silk Road Ensemble, Edgar Meyer, Chris Thile, Mark O'Connor and Mike Marshall.
Claude Méthé – Self-taught, Claude has made a

lasting mark as a fiddler and singer on Québec's vibrant trad scene as a member of such pivotal groups as Le Rêve du Diable, Manigance, Dentdelion, Ni Sarpe Ni Branche, and Entourloupe.

Rachel Baiman is an Illinois state old-time fiddle champion who has worked in Nashville and toured widely as a singer and multi-instrumentalist. About her duo of 5-string fiddles, Ten String Symphony, NPR's All Songs Considered said, "They do things with fiddles you wouldn't expect." The Nashville Scene described them as "stirring together old-time flavors with the broader range of influences brought by an omnivorous musical appetite…"
Jenna Reid – A member of Blazin' Fiddles (Sco
ts Trad Awards 2014 Folk Band of the Year) and the innovative fiddle quartet Rant, Jenna is one of Shetland's (and Scotland's) finest fiddlers and teachers. She and her sister curated the Shetland Fiddle Frenzy festival for several years. Jenna has been fiddler for many great bands, including Filska, Deaf Shepherd, Dochas, The Unusual Suspects and The Finlay MacDonald Band. She's been heard in a Gaelic feature film, and played in the Transatlantic Sessions.
Mike Vass – One of the most creative forces on the Sco

ttish music scene today, Mike has played fiddle in duos and bands such as Malinky, composes, produces and collaborates with many of the leading Scots and Gaelic tradition bearers, delivering multi-media performances, overseeing critically acclaimed recordings, and scoring for prestigious ensembles.



"The online fiddle classes are the most helpful and affordable method I have found for learning basics and new techniques. Class materials are ready online before each class, so students can be prepared. The classes are low pressure, and there is opportunity to ask questions. After each class, review materials are available online."
–D. Brown, Los Alamos, NM
"Fiddle-online has been a big plus for me. I can improve my playing skills while learning tunes even when I am traveling without my fiddle."
– Randall, Portland ME
"The classes are fun and enlightening as well as his online learning website. You can learn at your own pace. I wasn't sure about online learning, but it has served me well."
–T. Perry, Port Charlotte, FL
Our world-class guest instructors include:

Katie McNally was called "the new face of Scottish fiddling in the USA" in UK's Living Tradition magazine. Her latest project synthesizes her elegant and powerful fiddle playing with the talents of genre-crossing pianist Neil Pearlman and bluegrass phenom Shauncey Ali on viola, in the CD The Boston States.

Irish fiddler Liz Knowles played for Riverdance, soloed on the soundtrack for the film Michael Collins and with such orchestras as the New York Pops and the Cincinnati Pops. She has performed as a member of Cherish the Ladies, String Sisters, Celtic Legends, and Open the Door for Three.

Alden Robinson grew up learning fiddle in Maine and studied Irish traditional music at University College in County Cork in Ireland. His Irish-American fiddle style can be heard with the bands Press Gang and Riptide.

Andrea Beaton grew up in a musical family in Cape Breton, Nova Scotia. Her father, Kinnon, and her mother, Betty, are well known as fiddler and pianist. She has made 6 solo CDs and published 2 books of tunes. Andrea tours and teaches widely.
Cook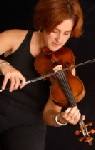 ie Segelstein – Founder and director of Veretski Pass, and fiddler with many of today's top klezmer bands. She has taught workshops at universities and festivals round the world, and at klezmer music camps in North America and Europe. Cookie was featured in ABC's documentary, "A Sacred Noise," and in other film productions such as "Everything's Fine" starring Robert DeNiro.
Tim Kliphuis

– Award-winning Dutch violinist Tim Kliphuis has created a brand new style that embraces classical, gypsy jazz and folk. His trio has toured Europe. Kliphuis is in demand at festivals, competitions and conservatoires. He wrote the best-selling book "Gypsy Jazz Violin" and teaches improvisation at the Amsterdam Conservatoire and his own summer school, Grappelli-Django Camp.
Paul Anastasio

– Paul has played bluegrass, old time fiddling, western swing, country, traditional jazz, swing and bebop. After studying jazz violin with the pioneering Joe Venuti, Paul spent many years working in the bands of Merle Haggard, Asleep at the Wheel, Larry Gatlin, Loretta Lynn and many others. He has also studied with a number of great Mexican fiddlers.
Steven Greenman

– Steven leads klezmer music master classes internationally and teaches in the Cleveland Orchestra's "Learning Through Music" program since 2001. He has performed and recorded with several of the world's leading klezmer ensembles, is a founding member of Cleveland's East European ensemble Harmonia. Steven has been a guest soloist with the Cleveland Pops Orchestra and other orchestras, performing his own arrangements of traditional East European Romani ("Gypsy") violin music and klezmer music.