Some of the most upbeat and easy-going tunes in Scotland come from a patch of islands halfway to Norway — the Shetland Islands. You might have heard about Shetland ponies or sweaters, or read about their offshore oil rigs, but if you haven't caught an earful of Shetland music, you are in for a treat.
Nearly every traditional Shetland tune seems to paint a picture:  One describes a fisherman keeping his boat steady with the oars ("Aandowin' At Da Bow"), another portrays the way you might limp along a sandy beach that tilts down to the sea ("Shingly Beach"), and yet another tune cycles through notes that can speed up and slow like a mill grinding grain ("Da Mill").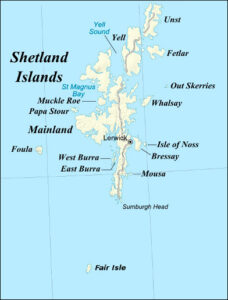 Shetland is a land of fiddlers. In the old days, they played reels for dancing, or hymn-like slow tunes for listening. With the wind howling off the sea and treeless fields, there could be no better way to warm up a winter's night than to fit three couples and a fiddler into a kitchen for a dance. For weddings, there was always a fiddler leading the procession, eventually playing the newlyweds right into their bedroom.
In the dialect, place names, and some of the music, the Norse influence is clear. The Norse took over from the Picts and Celts over a thousand years ago and ruled the islands for 500 years. Then, in 1469, Scotland's King James III married the daughter of the King of Denmark, and Shetland was given to Scotland to pay off the dowry.  Such was the power of kings.
The two World Wars were disruptive to Shetland. Especially after the second World War, people sought out new ways and ideas, and musical tastes were broadened by visitors, radio, and records. Aberdeen being the nearest Scottish city, it's not surprising that Aberdeenshire fiddling had a strong influence on Shetland fiddlers. Some left their native music behind and took to the novelty of the Scottish airs, marches, strathspeys and reels, and the romantic northeast Scottish style of playing them.
Perhaps the best recorded examples of this are two albums by the late Willie Hunter Jr:  Leaving Lerwick Harbour and The Willie Hunter Sessions. Willie's traditional fiddling spirit (his father was a fine old-style fiddler) drew upon his classically-trained, impeccable technique to grab listeners with powerful playing.
Aly Bain, Shetland's (and arguably Scotland's) most famous fiddler, is a master of the northeast Scottish style of fiddling. But he also knows the traditional Shetland tunes well, because he was taught both styles by his mentor, Tom Anderson.
In the 1950s, Tom Anderson worked as an insurance salesman throughout the islands, which gave him a chance to haul his clunky reel-to-reel tape recorder with him and record every traditional fiddler he could find. In 1959, he founded the Shetland Fiddlers Society, setting the stage for the resurgence of Shetland traditional fiddling. Aly Bain was the youngest founding member of the group, at age 13.
A fine fiddler himself, Anderson taught many students, and composed beautiful slow airs and jaunty reels. He and Aly Bain can be heard together on the classic album Da Silver Bow, playing traditional Shetland tunes.
Aly Bain has many recordings to his credit, a number of them with the great Celtic concert band, Boys of the Lough. Although he is a master of Shetland and Scottish fiddling, he also has eclectic musical interests which he explored as host of some BBC TV programs.  French Canadian, Cajun, and Texas swing tunes amiably join the Scottish and Shetland music on Aly's solo albums, First Album and Lonely Bird.  Aly has toured and recorded a great deal as a duo with accordionist Phil Cunningham and in another duo with Swedish musician Ale Moller.  The album Follow the Moonstone spotlights Aly Bain as a solo fiddler with a chamber orchestra, the BT Scottish Ensemble, performing three works by a Finnish composer. One of the works is built on traditional Shetland tunes, one is based on Scottish fiddle tunes, and one uses Scandinavian themes.
One of the most popular and successful bands out of Shetland is Fiddlers Bid. This group of three fiddlers, backed by guitar, harp, piano and bass, is incurably lively much of the time, though they do like to wallow in a few lush waltzes and slow airs from time to time. Members of the band have also gone off and made bands and albums of their own, including fiddler Kevin Henderson with Session A9 and a recent duo album with pianist Neil Pearlman, Maurice Henderson (no relation) with the band Haltadans, and the fascinating duo by harper Catriona Mackay and fiddler Chris Stout.
Shetland's share of North Sea oil money was put to use building a huge cultural center, including performance spaces and a museum, called Mareel, and some of the funds even went toward providing every school child a fiddle and lessons.
Of course, there is more to Shetland's music than the fiddle. During the last century, the piano and guitar became popular for accompaniment. The accordion arrived to substitute for, or supplement, the fiddles, providing the needed volume for larger dances. And in such a musical culture, music filtering in from elsewhere perked up local ears with a penchant for Scottish and Irish tunes, country, bluegrass, and rock.
One of Scotland's most popular bands is the Shetland group Rock Salt & Nails, which is a rock band of sorts, with lively songs, and as might be expected, some fine traditional fiddling thrown into the mix. They offer a diverse selection of music that they used to call "Shetland sheboogie."
Other Shetland bands to look for include the versatile Drop the Box, and the bluegrassy Hom Bru. A ceilidh band called Da Fustra made several lively dance albums, as well as the Cullivoe Ceilidh Band, which featured the late fiddler, Willie Hunter Jr.
Shetland's rugged hills and coastlines are home to only 23,000 inhabitants, who
nevertheless manage to host two major music festivals each year. The Shetland Folk Festival has presented island artists and major performers from around the world every April since 1981; and the Shetland Accordion and Fiddle Festival offers concerts, dances, workshops and music sessions every October, including the "Grand Dance" with about a dozen bands playing nonstop music for some 1500 dancers and music lovers.  A special fiddle-based festival started about a decade ago in August, called Shetland Fiddle Frenzy.
Despite its 100 islands, most of Shetland is connected enough to be accessible by car, with a few larger islands only a short ferry ride away from what they call the "mainland." Of course, mainland Shetland itself is a long ferry ride, or a short plane trip, north of mainland Scotland (itself another island!).
The small population of these northern islands has made a happy musical imprint well beyond their shores. Many wonderful Shetland tunes are now common repertoire throughout the Celtic music scene. But beneath the surface of those tunes lie the spirit of the old dance tunes and airs that will always tell the tale of fishermen and crofters from Shetland.
©2003 and 2020 Ed Pearlman