The article below is the last of our summer series taken from Ed Pearlman's music columns in Scottish Life magazine. If you're interested in a (future) published collection of nearly 100 columns such as this one, please sign up here for info!
---
In 2017, the band Old Blind Dogs released its 25th anniversary CD, a celebration of the energy and pathos of traditional Scottish music. It also evokes both the richness and mystery of the music of Aberdeenshire, which has at times been something of a closely held secret.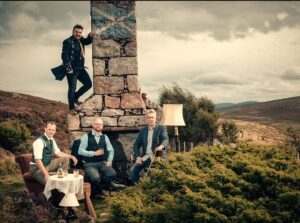 Old Blind Dogs began in the early 1990s as a ceilidh dance band rooted in Aberdeenshire. The only founding member still with the band today, fiddler and guitarist Jonny Hardie, lives in an Aberdeenshire house built in 1604 that belonged to his mother's family.
A number of great musicians have worked with the band, including, for a short time, Fraser Fifield, who added bagpipes to the band in 1997 at the ripe age of 20. Fifield recalls dancing to Old Blind Dogs when he was a teenager.  He and his friends were even bussed from school to the Old Blind Dogs ceilidh dance events.  Everyone loved this local band that could play traditional music with a groove.
One point of local pride was the Aberdeenshire songs at the core of the band's repertoire. Singer Ian F. Benzie performed and toured with Old Blind Dogs until 1999, bringing to it an open, clear, passionate and yet calming voice, with a pronounced Scots accent.
It is estimated that nearly half the residents of Aberdeenshire can speak Doric, the northeast dialect of Scots, and there are efforts to bring the language into acceptance at businesses and schools in the area. Robbie Shepherd, the long-time host of a dance music program for BBC Radio Scotland, also wrote a regular column in Doric for the Aberdeen newspaper. He saw language as integral to the culture, saying, "Our dance, our song, our poetry, our music and our landscape – it needs the language too."
The treasury of songs and tunes of Aberdeenshire has not always been widely known or understood. This could be ascribed to a somewhat insular culture, with strong dialect and a largely rural population. Between 1902 and 1914, Gavin Greig and James Duncan set out to collect the songs of the area, and were shocked to come up with no fewer than 3,000 songs, including about one-third of the ballads catalogued by Francis Child from the whole of Britain. Many songs were carried on by tradition bearers such as Jeannie Robertson, Lizzie Higgins (whose daughter played violin with Old Blind Dogs for a time), Jock Duncan and others.
In the 1970s some of these songs were spotlighted by a trio called the Gaugers, who inspired many area singers and listeners with their repertoire. And yet their pride of place, to the point of insularity, was expressed by one member of the trio when he said that "anything from south of Stonehaven would be considered 'World Music'. Broadmindedness has always been our enemy."
In this context, the Old Blind Dogs were a unique ambassador from Aberdeenshire, touring Scotland, the USA, and beyond. Their sound has included hand percussion, fiddle, vocals, guitar, whistles, bass, bouzouki, and when they added a fifth member in 1997, bagpipes. One distinctive feature of the band's sound is that it has never used a drum set, with snare and sticks. Davy Cattenach, the percussionist heard on the band's first few albums, used hand drums and particularly liked a relaxed reggae rhythm. This has created a non-rock sound palette that is very complimentary to traditional Scottish music. Texture, melody, countermelody, and good tune and song selection provide plenty of drama.
Over the years, the band explored many great Aberdeenshire ballads. Jonny Hardie likes to say that by now the band has used up all the Aberdeenshire songs and has had to look elsewhere! Building around their song repertoire, the band has blended local and national music with hypnotic tunes from Brittany, where they toured early in their career, plus an occasional old-timey tune from America, all supported by the boom and slap of the African djembe drum. It's a mix that works effortlessly and yet remains, at heart, Scottish traditional music.
The name of the band came from an Appalachian tune called "Old Blind Dog," which happens to sound a lot like the Aberdeenshire song "Back of Bennachie". This may be no coincidence, as many Appalachian songs and tunes were carried overseas by Scottish immigrants, even after some of them spent a generation or two in northern Ireland.
The band's first album helped launch a sublabel of KRL Records called Lochshore, which was formed specifically to feature the popular folk band phenomenon in Scotland in the early 1990s. Old Blind Dogs' first few album titles humorously referenced dogs, as in New Tricks, Close to the Bone, and Tall Tails. Their fifth album was simply called Five, because it was both their fifth album and honored the addition of Fraser Fifield as their fifth band member. Fifield introduced the bagpipes to the band, an instrument they have kept ever since.
Through the 1990s and 2000s, Scotland developed an astonishing coterie of brilliant young musicians, and Old Blind Dogs has taken advantage of it, bringing on board some top players. As time went on, fewer of the band members were actually from Aberdeenshire, and the band took on a broader Scottish sound. Many of the current and former musicians have been integral to the Scottish music scene, composing music or playing with bands such as Capercaillie, Deaf Shepherd, Shooglenifty and Treacherous Orchestra. Old Blind Dogs was twice named Folk Band of the Year at the Scots Traditional Music Awards.
Aberdeenshire has historically been a powerhouse of traditional solo fiddling in what's called the "northeast" style, with players and composers such as Skinner, Marshall, Milne, and MacAndrew, but this style is not particularly featured in the Old Blind Dogs. Instead, though instruments are often featured during arrangements, you can hear above all the chemistry of the band and how well they like to work together, rather than as soloists.
All Old Blind Dogs recordings are great listening, with a mix of high energy and quiet quality. One of my favorite CDs of theirs is called Fit? which in Doric means "What?" Made in 2001, it has some fine instrumental playing and great songs including Burns's "A Man's A Man for a' that", "Awa' Whigs Awa", and "Tatties and Herrin". As usual, hand drums, bass, and guitar lay the foundation for vocals, pipes, fiddle and whistles. Dramatic moments in songs are marked by furious but quiet countermelodies on whistle, or sudden a cappella voices in rich harmony.
The 25th anniversary CD is called Room With a View. The humorous cover shows an easy chair looking out at an Aberdeenshire hillside from the ruins of a stone house, with only the fireplace and chimney still standing. The music is polished and varied, including exciting tunes on pipes as well as quieter tunes with harmonies on whistles and fiddle. There are several songs, one a grizzly ballad of the deeds of a laird's family who get their comeuppance in the end, another a newly composed ballad in traditional style, and an old song taunting Napoleon about his defeat at the hands of the Russians. A dance tune from Brittany figures in the mix, along with a number of well-blended arrangements of Scottish traditional tunes.
Three of four members of the band provide group vocals, and all are amazing musicians.  Ali Hutton plays pipes, whistle and guitar.  He was taught by the great late piper Gordon Duncan and has worked with many greats such as Dougie MacLean, Deaf Shepherd, Salsa Celtic, and Shooglenifty.  Aaron Jones plays bouzouki and guitar, is a member of Alistair McCulloch's trio, and has worked with Kate Rusby, Battlefield Band, Tannahill Weavers, Emily Smith.  Donald Hay has recorded with loads of great groups including Sting, Eliza Carthy, Kate Rusby, Gordon Duncan, and Transatlantic Sessions.
Together, they have a musical depth that makes their ensemble a great listening experience. Founder Jonny Hardie finds that their 25th anniversary album harkens back to the band's sound on its second album, Close to the Bone, from 1993.  Despite varying personnel, the band has had a continuity in the sound and energy of Old Blind Dogs throughout its quarter century. Its energetic style of presenting music and songs of Aberdeenshire, and spotlighting great Scottish talent, has earned it a well-loved niche in the development of Scottish traditional music.
©2017, 2020 Ed Pearlman