It's normal to have some nerves about performing. Performing is live, and anything can happen. You need to be alert, so naturally your nerves need to be geared up to some extent. The only people who don't get nervous at all are those who don't care.
But to those who let the nerves get the best of them, I have a simple suggestion — make your performance be about the music, not about yourself.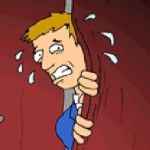 I've seen lots of suggestions about combatting stagefright, ranging from mentally undressing the audience to taking drugs. Most of these bits of clever advice miss the point.
The point is that your music has something to say to your listener, even if you can't verbalize what that is. What is your music saying? It's certainly not about how many mistakes you might make, what you're wearing, how many listeners there are, or whether somebody misspelled your name.
Find out as much as you can about your music before you perform it. It's impossible to find out everything, whatever everything might even mean, so when it's time to play, go with whatever preparation you had time for, and convey the feel of that music to your listeners.
Who wrote the tune? When? Why? How has the tune been used? How did you find it? What did it mean to you when you heard the tune, or played it? One of the reasons I like to talk to an audience is