The article below is the last of our summer series taken from Ed Pearlman's music columns in Scottish Life magazine. If you're interested in a (future) published collection of nearly 100 columns such as this one, please sign up here for info!
---
In 2017, the band Old Blind Dogs released its 25th anniversary CD, a celebration of the energy and pathos of traditional Scottish music. It also evokes both the richness and mystery of the music of Aberdeenshire, which has at times been something of a closely held secret.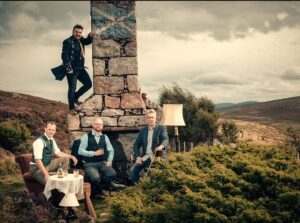 Old Blind Dogs began in the early 1990s as a ceilidh dance band rooted in Aberdeenshire. The only founding member still with the band today, fiddler and guitarist Jonny Hardie, lives in an Aberdeenshire house built in 1604 that belonged to his mother's family.
A number of great musicians have worked with the band, including, for a short time, Fraser Fifield, who added bagpipes to the band in 1997 at the ripe age of 20. Fifield recalls dancing to Old Blind Dogs when he was a teenager.  He and his friends were even bussed from school to the Old Blind Dogs ceilidh dance events.  Everyone loved this local band that could play traditional music with a groove.