The article below is from Ed Pearlman's music columns in Scottish Life magazine. If you're interested in future publication of a book containing nearly 100 columns such as this one, please click here and check off your interests, to be kept in the loop.

---

A long time ago on an island far, far away, a new Celtic music festival was born. It was the summer of 1996, on the Isle of Lewis in the Outer Hebrides.
Festival director Caroline McLennan recalls chatting with workmate Fiona Morrison back in the spring of 1995 about the new Celtic Connections Festival in Glasgow. Could such an event could happen in the Outer Hebrides? It did not take long for them to find six or seven others who shared their vision, and made a plan to try it out. They had hoped to use a site near the spectacular ancient standing stones at Callanish, but ended up situating the event on Castle Green in front of Lews Castle, in Stornoway.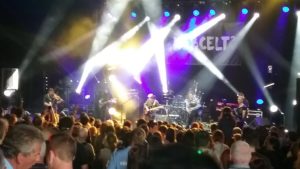 The first Hebridean Celtic Festival took place in the summer of 1996, featuring great performers such as Davy Spillane, Dougie MacLean, Wolfstone, Natalie MacMaster, Iron Horse, and Shooglenifty. Fiddler Jennifer Wrigley, piper Rory Campbell, and Gaelic singer Christine Primrose, among others, were recruited to tour the local schools as an educational part of the festivities.
In recent years, HebCelt, as the festival is fondly called, has been named one of the UK's top summer festivals (it's the only Scottish one on some lists). Some 15,000 people are estimated to have attended in recent years, about half from the Outer Hebrides, 30% from the rest of Scotland, 10% from elsewhere in the UK, and another 10% from around the world. In many cases, people born in Lewis use the festival as an opportunity to come back for a visit, and sometimes, people meet there, fall in love, and stay on.