When we listen to music played or sung, ornaments are everywhere, but we barely notice. Stop and listen to a singer on the radio. Nobody sings without a slide or grace note note here and there, going into or out of a note.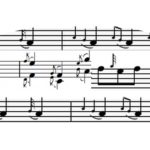 That's because ornamentation is part and parcel of the language. The use of these musical decorations varies depending on the dialect (the fiddle style), but it fits right in effortlessly, at least when you're listening to it. In fact, most people hardly pay any mind to ornaments until we actually try to play them. Then we wonder how it's done, and if we're looking at it on paper, we struggle with making those grace notes sound like the ones we've heard.
Grace notes are not only integral to musical language, they're also built into the way we speak. If we write lyrics to a tune, each note could be a syllable. But the grace notes, triplets, and slides are the consonants. Let's take a look at some examples of this.