Improving your playing is rewarding in and of itself, but a big part of the reward is getting a chance to play with others. An earlier article talks all about hosting a session at your house, which is one great way to play with others, but here I'd like to encourage you to consider playing out in your community.
You don't have to be at a professional level to play for people who would really appreciate your music, and it does wonderful things for your playing. Here a few thoughts on where to play, and how to get ready for it.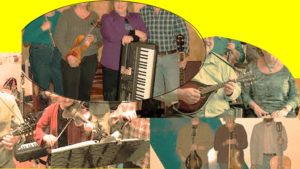 You'll want to pull some music together with one or more friends. Keep in mind that multiple fiddles tend to average out in sound, so don't worry about a few mistakes here and there, or about a few bad sounds. When you play with others, it averages out into a nice sound. The big goal is to play in time, so you can stay together, and so that listeners can tap their toes or sit back and enjoy a slower tune. They won't care about a few bad notes! So pull together another fiddler or two (or more) and a backup person — guitar is the most portable. You could even host some sessions in order to find the right people to make a good mix, and a good mix is more about compatible people than it is about what level the players are. If you have fun playing together, the listeners will love it.
I will say right now that I know someone who is, frankly, a terrible fiddler, and yet he has ventured out and played at some community functions where people loved having him and asked him back with his small group.
You'd be surprised how many opportunities there can be for playing your music. Continue reading Play Out & About!