The article below is from Ed Pearlman's music columns in Scottish Life magazine. If you're interested in future publication of a book containing nearly 100 columns such as this one, please click here and check off your interests, to be kept in the loop.

---

If you drive seventy miles north from Inverness, you come to the border of Caithness, the northernmost corner of mainland Scotland. Within another hour you can reach the rest of Caithness – the capital city of Wick on the east coast, or Thurso and John o'Groat's on the north coast. Sutherland lies to the south and west. Historically a difficult place to make a living, Caithness is nevertheless a source of much joyous and sweet music. Often it seems that people in the toughest places create the happiest music.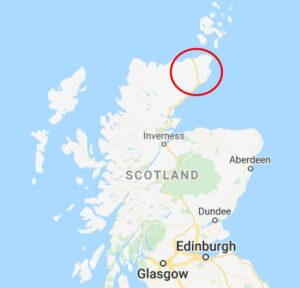 Think of the hardship of living in Badbae in the old days, when during rough weather, children and animals were tethered so as not to be blown off 200-foot cliffs into the sea. Or imagine working as a herring girl in Whaligoe, packing your creel with fish from the boats, carrying it up 330 steps cut into the cliffs, and walking eight miles to the market in Wick. In the 19th century, Wick's harbor was packed with over a thousand fishing boats on a bay that Robert Louis Stevenson called the "baldest of God's bays." He wrote of watching the Wick fishing fleet put out to sea "silently against a rising moon," strangely and beautifully turning the horizon into a forest of sails.
And yet the rugged, treeless beauty of the Grey Coast has produced some wonderful music. (Perhaps not coincidentally it has also provided fine whisky as well! Wick's Old Pulteney distillery was named World Whisky of the Year in 2011.) Continue reading Spirited Music from Caithness, Scotland