Most of the time, we change bow on every beat, in order to keep up a good sense of timing in our tunes. But there are lots of times when a beat goes by without a change of bow. That's what I meant by the title of this article — "the beat not played."  It could be a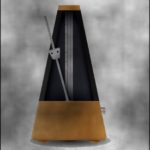 syncopated rhythm or it could simply be a dotted note, where the following note is played after the next beat has passed. We need to feel each beat, whether we play a new note on it or not — this is one basic timing question, not only for playing musically, but for being able to play with others; and it is why slow airs are more difficult than people imagine.
Syncopation is the focus of this month's workshop tunes, because they all contain some syncopation that's worth getting comfortable with. But let's look first at the way slow airs often make you hold a bow beyond the next beat.
The beauty of a slow air depends on the placement of the notes, and if you are playing a very long note, the note that follows must be placed exactly in the right place, or the flow of the tune falters. We have to feel the beat throughout, but especially during the long notes.
Here is the beginning of the slow air "Da Slockit Light":  Continue reading The Beat Not Played