No matter how beautiful the notes, it's timing that's at the heart of the music, so it's no wonder many players tap their toes.  Notes played badly but with good timing still present a recognizable piece of music, whereas notes played beautifully but with careless or unanchored timing can be confusing to listen to, or even unidentifiable.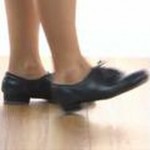 How do we make certain of good timing?
There are many angles to that question but for the moment, I'd just like to comment on how musicians reinforce the beat with physical movements, such as tapping feet.
Those who play with the clearest sense of timing move physically in some way, as they play.  Those who have trouble with timing Continue reading Toe-Tappingly Good Music