For years, we have been meeting online at www.fiddle-online.com to bring together learners from all over, people who have no teacher, or who like what we do, or who need to or prefer to stay home, or who want to meet and learn from great players from afar. Now the Covid virus is forcing us to stay home and do just that.  We're responding by offering a new feature:  live concerts!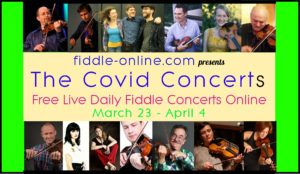 Fiddle-online.com is a great resource for those who need to be home, those who play or want to play fiddle music. Over 100 blog articles about a huge variety of topics to do with learning the fiddle, over 100 tunes to learn, over 60 technique videos, over 100 workshops with Ed Pearlman, some 20 guest fiddlers presenting concert/workshops — and all of these events have materials that are available to everyone — performance and teaching videos, audio, and fiddle-online's unique interactive sheet music.
Of course we also feature unique live workshops, where learners can meet each other and the instructor, play with and for the instructor, and earn lots of points (you'll have to attend one to understand about these!). There are also weekly online classes progressing from fiddle basics to intermediate level. If you would enjoy such a class, get in touch with me to learn about what's available. If enough are interested in a beginner class, we'll start one!
Now we offer a new resource — live concerts. In response to the Covid19 virus, and the cancelling of all gigs and income for so many musicians, we're trying a series of concerts featuring many of our guest instructors. They're free, and yet they allow those who can to donate to the musicians who are so hurting for income in these strange times of a pandemic. As I write this, the Covid Concerts begin tomorrow, with a daily fiddle concert online and free to all, from March 23 to April 4, 2020.
I hope you'll listen to some or all of these concerts, and let them lift your spirits! If you can, please support the musicians who are donating their time to play for us.
If you would like to hear about future live concerts on fiddle-online, join our special concert email list, and feel free to pass the word to friends who might not be learners but enjoy hearing the music!  Just use or pass along this URL — http://eepurl.com/bifEmD — to subscribe to this special list, which will be used only for concert announcements.
We're here 24/7 with lots of resources for you to enjoy, as well as fun live workshops where you can meet and get to know other learners from near and far.
Stay safe, stay healthy, and keep up your music!
©2020 Ed Pearlman