When you log in to fiddle-online.com, you are taken directly to your own personal home page. You'll see your name listed, your current number of credits, and a number of other features: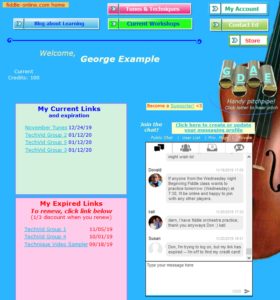 Green box — shows links to the materials you are currently signed up for and their expiration dates.
Pink box — shows expired links — clicking on any of these will renew those materials at a 1/3 discount.
Chatbox* — chat with everyone or anyone and view messages from others. More details below!*
Pitchpipe — use it to tune your fiddle! Just click on the letter of the string to hear an endless loop of a fiddle playing that string until you click "stop".
Supporter link — click this to donate $ or credits to help support the site, and receive occasional emails (2-3 per year) about what's going on behind the scenes with an invitationto provide any feedback you may have.
Links in the Top area: