Last time we talked about finding the support materials you're looking for to learn different styles of tunes on fiddle-online.com with a bunch of links to the Scottish tunes you can find here.
This time we'll provide easy links to find lots of other styles of tunes.  When you look at the Past Workshops, you can also check out tunes based on the types and purpose of tunes, such as tunes to help you learn by ear, tunes to help learn ornamentation, a set of tunes teaching higher finger positions, and a group of tunes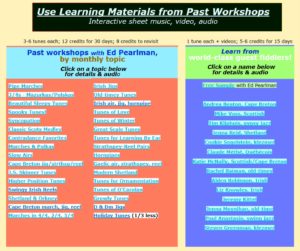 focused on syncopation.
Below are links for audio and info about learning Irish, Old-timey & other American trad tunes, jazz fiddle, Scandie, Quebecois, Cape Breton, and klezmer tunes!
Looking for Irish tunes?  Check out the following: Continue reading Links to Learning Tunes – part 2