Fiddle-online.com has pioneered a mix of live online workshops with interactive sheet music — if you haven't tried a live event, here's what t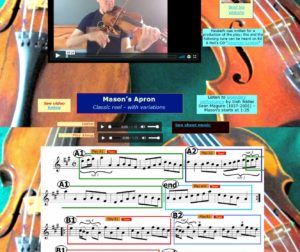 o expect.
We use Zoom to connect; you can learn more about it at this link. It's high quality and easy to use. Once you sign up for an event, you'll have access to a link, as well as learning materials. At class time, you'll simply click to join the group.
Types of Live Events
There are several kinds of live events on fiddle-online.com — the monthly Sunday guest concert/workshop featuring top players from around the world, the Thursday tunelearning workshops with Ed Pearlman, which are centered around a monthly topic (see the past workshops page for a list of monthly topics), and the Wednesday classes which are 8-week sessions aimed at particular levels (starting with beginners in Sept and progressing to Intermediate level 2 in the spring).  When a new session is available for signup, there is an info button on the Current Workshops page.
Live Event vs Materials-Only
Learning materials for workshops are available 24/7 online, starting from the moment you sign up and lasting until at least 30 days after the live event. After a live workshop is over, a teaching video is posted for review, and for those who missed the live event. A performance video is also available from the concert/workshop. In addition to these videos, of course, you have access to