New Year's Eve is coming up, and the most popular song of the night will be Auld Lang Syne.  Did you know that the usual melody used for "Auld Lang Syne" song was not the original melody?  Below is the sheet music for both.
If you'd like to hear the song as originally intended by Robert Burns over 200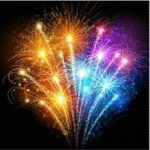 years ago, click here to open a new window and listen to it as sung by Mairi Campbell of The Cast.
Burns collected the song, which was already old at the time, and added some of his own words to it, to make it the song we know now. The melody we're used to singing (click here to hear Dougie Maclean sing it) was apparently selected by George Thomson, an editor who included Burns's "Auld Lang Syne" in his A Select Collection of Scottish Airs in 1799 after Burns died. It must have been a popular melody at the time, but Burns regarded it as "mediocre."
Some say the "new" melody was composed by an Englishman named William Shield for an opera called "Rosina," which was performed on New Year's Eve 1782 in London. According to the score, he was attempting to imitate Scottish-style melody.
But others say that Shield was himself quoting an older Scottish melody which shows up in a number of 17th and 18th century Scottish tunes such as "Miller's Wedding," "Lasses of the Ferry" and a few others. One tune I think is closest is a strathspey called "Sir Alexander Don's Strathspey," but it's hard to say when it was written because it wasn't published until after 1815 in the Beauties of Niel Gow.
Whatever the history, the tradition of singing Auld Lang Syne at New Year's is honored round the world, and a melody honored by so many people for so long means more now than it did when it was new. So while we can enjoy the beauty of the melody Burns selected, it's hard not to appreciate a group of friends singing the song as we know it, locking arms and welcoming the new year.
Below is sheet music for both versions.  Have a good New Year's!