The article below is from Ed Pearlman's music columns in Scottish Life magazine. If you're interested in future publication of a book containing nearly 100 columns such as this one, please click here and check off your interests, to be kept in the loop.

---

A long time ago on an island far, far away, a new Celtic music festival was born. It was the summer of 1996, on the Isle of Lewis in the Outer Hebrides.
Festival director Caroline McLennan recalls chatting with workmate Fiona Morrison back in the spring of 1995 about the new Celtic Connections Festival in Glasgow. Could such an event could happen in the Outer Hebrides? It did not take long for them to find six or seven others who shared their vision, and made a plan to try it out. They had hoped to use a site near the spectacular ancient standing stones at Callanish, but ended up situating the event on Castle Green in front of Lews Castle, in Stornoway.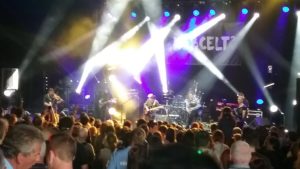 The first Hebridean Celtic Festival took place in the summer of 1996, featuring great performers such as Davy Spillane, Dougie MacLean, Wolfstone, Natalie MacMaster, Iron Horse, and Shooglenifty. Fiddler Jennifer Wrigley, piper Rory Campbell, and Gaelic singer Christine Primrose, among others, were recruited to tour the local schools as an educational part of the festivities.
In recent years, HebCelt, as the festival is fondly called, has been named one of the UK's top summer festivals (it's the only Scottish one on some lists). Some 15,000 people are estimated to have attended in recent years, about half from the Outer Hebrides, 30% from the rest of Scotland, 10% from elsewhere in the UK, and another 10% from around the world. In many cases, people born in Lewis use the festival as an opportunity to come back for a visit, and sometimes, people meet there, fall in love, and stay on.
HebCelt always brings in a critical mass of great Celtic musicians, a guarantee that it's worth the trip. It also features many musicians with a connection to the isle of Lewis, some of them top names in their own right, while others are local artists, part of the community which supports the event.
On opening day you could walk through downtown Stornoway and feel the excitement. Musicians are playing outside; people are dancing a Strip The Willow in the middle of the street. The Lews Pipe Band plays a set of tunes, and marches down the street, leading an ever-growing crowd across a footbridge and up to Castle Green for the start of the evening's concerts.
Two gigantic circus tents loom ahead, with broad stripes on taut roofs sloping up to high poles in the center. Inside each is a large stage, fully equipped for the bands, with sound systems, smoke and light shows, TV monitors, and standing room for huge crowds, plus a curtained platform to the side for those who need seating. When the music starts, and the tent fills with listeners and dancers, you will find yourself in another world, with joyous fellow travelers alongside.
Some of the artists heard at the 20th anniversary festival included the wild drum/bodhran exchanges and hybrid music of Afro-Celt Sound System, the mellow Gaelic singing of Karen Matheson with Donald Shaw of Capercaillie, cross-cultural music by the Scottish band Salsa Celtica, a blend of electronic grooves and traditional instruments by the band Shooglenifty, and unbeatable high-energy tunes from Treacherous Orchestra.
Many of the musicians at the Festival have a Lewis connection. One of the fastest rising stars of the Scottish music scene is the band Mànran, whose lead singer came from Lewis. This band hit it big in its first year, back in 2010-11, and has continued to be hugely popular in Scotland and beyond. Sweet Gaelic songs, lively mouth music, and songs in English are backed by fiddle, accordion, flute, uillean and Highland bagpipes, and drums, blending traditional music with funk, jazz, and rock.
For its 20th festival, HebCelt commissioned a work by Lewis native Alasdair White, the fiddler with the Battlefield Band. White grew up inspired by HebCelt every summer, especially the time fiddler Alasdair Fraser called him up to play a tune for the huge audience, when he was only 13. Jovial and mustachioed, White opened the festival this year by introducing his commissioned work, entitled "An Iuchar (The Key)." This suite of some 30 melodies traded off between danceable and contemplative moments, with Alasdair himself on fiddle, joined by colleagues on Highland pipes, bouzouki, accordion, drums, uilleann pipes, and guitar/banjo. Hopefully White will find funding to record his one-hour composition.
Another Lewis native, singer Alyth McCormack invited White to join her and a few other musicians in a performance celebrating her new CD, Danns an Rathaid (The Road Dance). Her rich voice, singing both Gaelic and English, was also featured as part of her trio, Shine, with singers and harpers Corrina Hewat and Mary MacMaster.
One band with an unusual Lewis connection was Raghu Dixit from India. Their presence underlined longstanding ties between Lewis and India, dating to the 18th century, when Col. Colin Mackenzie of Stornoway became the first man to map all of India, as Surveyor General.
The musical acts at HebCelt alternate starting times between the two primary tents, so people can catch some of everything if they wish. There is also a smaller tent with an Acoustic Stage for instrumental duos, singer/songwriters, and other smaller-scale acts, while listeners try out the wide selection of Scottish whiskies and gins at the bar opposite the music. Another tent provides cover in case of rain for those wishing to grab a bite and a beer from the food vendors, or to sit on hay bales in the summer breeze.
New that year was a smaller tent for circus acts, magicians, and mask making. Given that some 20% of the audience is under 16, it is no surprise that this kid-friendly entertainment is well received.
HebCelt offers some activities offsite as well, including late night performances by many of the top bands of the day, in two different Stornoway locations. Everything is walking distance in town, but there are also a few offerings in other parts of Lewis and Harris during the four-day festival.
Community support for the festival is strong, as evidenced by about 150 volunteers putting in nearly 4000 hours to help, local businesses providing in-kind support, and community groups such as Highland dancers, the pipe band and others adding activities of their own. Gaelic is an important part of the event, not only in the musical acts but also in language classes, not to mention a group of students from a local school, who circulate in the crowds and teach simple Gaelic phrases to visitors. In return, the festival creates a huge sense of pride and excitement in the community, while injecting a much-needed £1.5 million into the local economy each year.
By December, HebCelt's website begins listing some of the major artists confirmed for next year's event, and continues adding names as more are confirmed. While the 20th festival honored a number of the artists who have appeared in past years, each year's event focuses on a different concept.  For example, the 21st festival was based on what it means to be 21 years old — a coming of age.
This year, the festival can't happen due to the pandemic, but has commissioned special films presented online from 15-18 July.  One features original pipe tunes celebrating the Isle of Lewis; another headed by Gaelic singer Julie Fowlis will focus on puirt (mouth music); plus one centered around a Runrig song, and one spotlighting footage and interviews from past HebCelt Festivals.  The festival website will keep us all in the loop!
©2015 Edward Scott Pearlman