A colleague once loaned me a book about what's called "body mapping" for musicians.  Even browsing through it revealed some fascinating information about learning fiddle.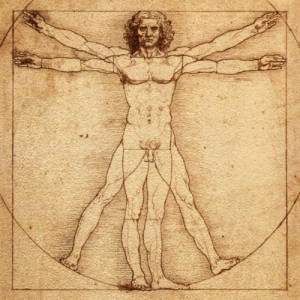 Did you know posture is not about having a straight back?  Or that your hand doesn't rotate around the middle finger?  Did you know your arm requires the use of four joints, not three?
Below, I'll outline answers to these questions.  These are just a few of countless interesting and important points about how our body actually works, versus how we might imagine it works.
Here's an example:  When we play violin, our left hand is not parallel to the fingerboard — the palm faces in the direction of the left shoulder.  Those who imagine their left hand to be parallel to the fingerboard are thinking of a body map that doesn't match reality.  They are likely to have a hard time playing notes in tune, because they imagine they have to separate their fingers sideways, when in fact they only need to straighten and bend their fingers.  You can see what I mean by placing two fingers on a string and sliding the 2d finger up and down the string — you are just straightening and bending that finger.  Those who map this out wrongly in their head may instead make awkward hand or wrist adjustments to compensate for the imagined difficulty.
Another common imagined difficulty has to do with how the right arm actually moves, as opposed to how some imagine it moves.  There's a technique video (#9 in Group 1) that addresses both the fingering and this bowing problem with some awareness exercises that can help you bow and finger more efficiently, and sound better.
One book on this subject is called What Every Musician Needs to Know about the Body, by Barbara Conable.  A number of related books can be found at this link.
As to those body questions I mentioned–Do you think your back should be straight?  I have seen people walk around as if their spine is a pole, and seem to feel this is healthy, but according to the book mentioned above, your spine actually needs curvature and flexibility, and if you try to make your back super straight, you actually put weight and stress on the rear of the spine, where the nerves are, rather than on the weight-bearing side of the spine (its front side).  One thing that gives you good posture is the balancing of your head, which involves the ability to move your head in all directions, and yet always be able to come back to the balancing place.  You don't want your head fixed in a rigid, "correct" place.
As the the rotation of the hand, it's interesting to note that the hand does not rotate around the middle finger.  In fact, because of the way the forearm twists, the axis of rotation is around the little finger.  If you imagine your hand rotates around a different part of your hand, then you might be straining something.
Lately in teaching fiddle, I've found it interesting and helpful to point out that the bow arm uses four joints, not three.  We know about the wrist, elbow and shoulder, but might not stop to consider that the shoulder can't lift without using the joint where the collarbone connects just below your chin.  It's a joint we never need for playing the fiddle!  If you do use it, whether on left or right, you're likely to strain some muscles.
This "mapping" of the body can be a tremendous help in playing in a more relaxed way, which translates into being able to play better and for longer periods of time without strain.
© Ed Pearlman 2015