New technology, new pharmaceuticals, new strategies…you deserve to know the latest ideas to help you learn and play well without really trying.
An earlier article talked about ways to unlearn stagefright — well, some people just take pills, like beta-blockers — end of problem!  There are also physical gadgets out there — to keep a bow on track, fit your bow hand into a corrective mold, electronically play a the next note of a tune every time you tap on a drum, or show a piano student which keys to press remotely from an online connection.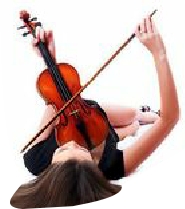 Here are some products so advanced they haven't been developed yet.
Magnetic Tune Teacher–electromagnets are embedded in the fingerboard and activated based on a programmed piece of music, while magnets in the student's fingers are drawn to the right place at the right time for the right amount of time, thus teaching their fingers to play the music, or covering for them if they forget. One slight drawback is the minor surgery required to insert the finger magnets.  Continue reading Future Tech, or How to Learn Fiddle Without Really Trying