Here are some guidelines — When To take care of 7 aspects of your fiddle "equipment". Keep in mind, though, that 90% of the music and sound you produce has to do with the player, not the equipment!
Are you wondering when to… Put on more rosin? Clean rosin off strings? Change strings? Rehair your bow? Look for a new shoulder rest? Look for a new bow? Look for a new violin?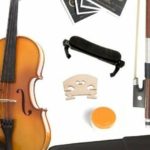 When should I…
1 …put more rosin on
Short answer: when you're not getting the sound you expect
A fairly good rule of thumb is to add rosin for ever hour or so of actual playing time. Don't put too much on, though, just a bit of a rub at each end with maybe two passes, down and up, along the length of the hairs, more if you haven't done it for a while. If you see a cloud of white puff up as you play, you've put way too much on! Whip your bow through the air a few times to get rid of the excess, but try not to bang it into anything or anybody as you do!
2 …clean rosin off the strings and fiddle
Short answer: every time you're done playing
Take a lintless cloth and wipe the rosin off the strings and the violin. The buildup of rosin only chokes the quality of your sound, and if it piles up on the instrument it will deteriorate the finish. No need to use any cleaner on the strings, just rub the strings where you've played on them, until the annoying squealing (more annoying the longer you've waited to clean them!) stops and your cloth slides silently over the strings. Rubbing rosin off the violin can be done with the cloth too, but once in a while you can use a drop of polish/cleaner made for violins; just don't get it on the strings too!
Continue reading "When Should I…" (#1) — 7 Tips About Equipment