A technician is someone who is driven to explore and master the familiar. An artist is one who is driven to explore and manage the unfamiliar.
Once an artist explores the unknown and corrals a piece of it into their work, it becomes familiar, and the artist becomes a technician seeking to master it.
Whether artist or technician or some combination of both (as most people are), everyone needs to learn the vocabulary of their art, the technique, in order to know the possibilities of expression within their field. The more vocabulary they have, the more they realize how much they have to say. Beginners too appreciate the possibilities of expression, even if they're not ready to say very much yet. In fact, these possibilities are what generally make someone want to learn in the first place.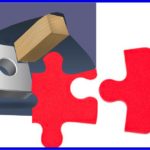 How do you feel when you see someone else perform something that's amazing?  If you're more of an artist, chances are you'll be inspired by the work of others, and sense new ways of approaching your own work.  If you're more of a technician, chances are you might feel challenged or disheartened by brilliant performances, because a technician's first question tends to be "Can I do that?"
I know an artist who achieved a level of accomplishment that drew many students and apprentices to his studio. One of these learned so well that she produced work that confused people as to whether the teacher or she had made it. At first, this artist was annoyed that his student had taken on his techniques and not developed her own. But then, he realized that the reason he was annoyed was that he had become only a technician and forgotten to move ahead with his art. He needed to dig into the vein of his own creativity to explore new, unfamiliar territory, new ideas and techniques that he could develop and master. He actually felt grateful to that student for inadvertently alerting him to his own plateau, and he went on to produce a great deal of new and amazing work.
These definitions of artist and technician are not limited to any particular field. I think of Elon Musk, for example, as an artist driven to explore the unfamiliar, manage his ideas, and then master them with a blend of new and old techniques of design and manufacture. High-profile (and wealthy!) creators often delegate much of the technical part so they can move on to their next project.
However, the skills of the artist, Continue reading Artist and Technician