When you click on "Sheet Music" on the home page, you are taken to the world of the Tune Groups. Each of these gives you interactive sheet music and audio for a dozen tunes for 3 months. If you learn all 12 tunes, that's a tune a week!
I'll describe below how these work, but keep in mind that this interactive sheet music format can be found in all of the Workshop materials as well! A sample of this kind of sheet music is linked prominently in pink on the Tune Groups information page.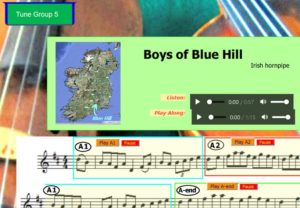 What tunes will you find in these tune groups? Tune Group 1 offers a nice mix of Celtic, American, and Canadian tunes, and also is good for beginners because it's the only group that offers both the sheet music and music by numbers. Tune Group 2 continues with a nice variety of tunes — Scottish, Irish, American, and Quebecois. Tune Group 3 is all about Scottish tunes, and Tune Group 5 contains popular Irish tunes. Tune Group 4, Shetland tunes, is currently only available on my old site and works great but only if you can use flash media; it will eventually be added to fiddle-online so it can be used by all devices.
Here's how it works. With each Tune Group, you get access to that tune group's home page, with links to each of the 12 tunes in that group. When you visit one of the tunes,
you'll see info about the tune, and sheet music boxed by phrase. Learning by phrase is the quickest and most musical way to learn and play a tune, and sheet music doesn't make clear where the phrases are.
The first thing you'll want to do when working on a tune is to click the listening track, so you can get a feel for how the tune sounds when played up to tempo and with spirit.
Above each phrase is an orange button that, when clicked, will play that phrase slowly, and automatically repeats itself, so that you can listen, play along, use as needed, until you click the "Pause" button, which stops the audio for that phrase.
The audio is only shown for the first time that phrase appears, and helps you learn the structure of the tune — you quickly see that this first phrase, for example, may also appear as the third phrase, or the ending phrase may be the same in each part of the tune.
Once you get to know the phrases, you can click on the "Playalong track" which counts the tune in and lets you play along at a moderate pace. You can hear all the phrases in context, and can use the track as you like. You may want to listen to some phrases and play others as it goes through.
There is a link to the sheet music for each tune, allowing you to view and print out the sheet for separate reference. Also good for future reference, once your time with the Tune Group expires, is to right-click the playalong track and save it to play along with. You won't need the audio by phrase once you learn the tune, but if you ever want to revisit this tune group, you can do so at 1/3 off the regular price, and learn those tunes you might have missed.
You might like to know that the music on both Tune Groups 1 and 2 are also available in the Credits Store as Instructional CDs 1 and 2, with 93 and 99 tracks, respectively, allowing for listening, playalong, and individual phrase tracks, as well as some medleys (on CD1) and harmonies (on CD 2).
Dive into the Tune Groups, and enjoy 3 months to work on a dozen tunes!
© 2018 Ed Pearlman