Music & walking in Scotland




Click here to stay in the loop about our summer music & walking trips to Scotland!

Click above for associated workshops & articles

Sunday 2 August – 3pm ET (8pm in UK)
– from the Northern tour (Caithness/Orkney/Shetland/Aberdeenshire/Morayshire)
Fiddlers Gordon Gunn, Jennifer Wrigley (with guitarist Hazel Wrigley), Douglas Montgomery, Maurice Henderson, Jonny Hardie, Charlie McKerron
To hear about future online concerts, subscribe below!
We use Zoom – if you haven't used it before, no need to prepare – it will download when you click the link above. For basics on how it works, visit our Zoom webpage.
Jennifer & Hazel Wrigley
The Wrigley sisters grew up in Orkney, and toured the world with their virtuosic and funloving fiddle & guitar duo. They have been involved in many teaching initiatives, media appearances, made 2 albums with the band Seelyhoo, and 7 albums of their own. After years of touring, the Wrigley Sisters returned to Orkney and set up 'The Reel' – for over 15 years a central space in Orkney for music lessons but also a cafe & bar, music shop, venue and exhibition space.
Douglas Montgomery
Douglas is a born and bred Orcadian who has been teaching the next generation of Orkney fiddlers for almost 30 years as well as touring the world with his Duo Saltfishforty and Orkney Supergroup 'The Chair'. Although he specializes in traditional fiddle music of Orkney he is often found performing blues, rock and classical music too.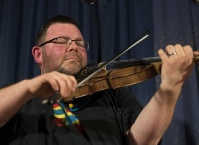 Maurice Henderson
Maurice grew up and lives in Shetland, very much part of the traditional music scene there. He is known for his passion and enthusiasm for the traditional Shetland tunes, folklore of islands and the stories behind the tunes, and known for telling quite a few yarns himself! He is a founding member of the band Fiddlers Bid, and also plays with an exciting new band called Haltadans.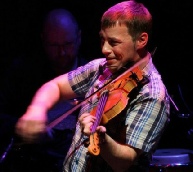 Jonny Hardie
Jonny is a founding member of the Aberdeenshire band Old Blind Dogs, which over the past 3 decades has toured widely with their captivating traditional Scots music and song, and made more than a dozen albums. He's a fiddler, guitarist, singer, composer, producer, and musical director of a theater company.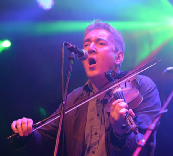 Charlie McKerron
Charlie grew up in Morayshire and in his early years won many traditional Scottish fiddling competitions. He went on to become a virtuoso, innovative musician, and an integral member of the great band Capercaillie, which has toured the world and sold well over a million albums.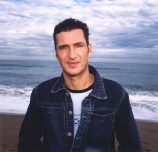 If you can…
Donations will go first to pay the musicians; once that goal is reached, additional donations will help recoup losses for this summer's tours, tip Ed Pearlman for organizing these events, and provide bonuses to musicians.






Gordon Gunn
Gordon is from Wick, in the northern mainland of Scotland (Caithness). He's a virtuoso traditional fiddler and a founding member of Session A9 (Dougie MacLean called them "the best band to have come out of Scotland in 100 years"). He travels far and wide as a performer and instructor, and in addition to his solo albums, has played on over 50 albums as a session musician.