Sandy Brechin and Ewan Wilkinson
Sandy is a wildly entertaining accordion player, as can be guessed from his CD titles Out of His Box, Out of His Tree, and his ceilidh band, "The Sensational Jimi Shandrix Experience"! He has played with the bands Seelyhoo, Bùrach, and the Sandy Brechin Band, which have toured the world. He often works with Ewan Wilkinson, who plays guitar and has a rich, powerful singing voice.
Gillebride Macmillan
Gillebride (pron. Gill-ah-BREEDGE-eh) is from South Uist in the Outer Hebrides. Gaelic is his first language and Gaelic songs and traditions were always an important part of family life. He performs Gaelic song, and teaches Gaelic at university. His recordings include both traditional songs and new ones he has composed, all in Gaelic. He stars as Gwyllyn the Bard in the Starz production of "Outlander" where he regales those in Castle Leoch with traditional Gaelic songs and tales.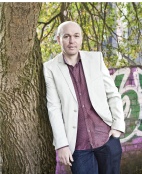 Fin Moore and Sarah Hoy
Fin makes bagpipes, teaches and performs smallpipes, Border pipes and Highland pipes. His father Hamish was a pioneer in the revival of the Scottish smallpipes. Sarah Hoy is a fiddler whose father Derek was integral to the Scottish trad music scene. Fin has played and recorded with the pipe quartet Seudan, using the Moores' reproduction of 18th century Highland pipes, and teaches each year at the music and dance festival Ceolas in South Uist. Together, Fin and Sarah perform as a fiddle and pipes duo.



Corrina Hewat
Corrina Hewat is a Scottish singer and harper, composer, educator, director, big thinker. Widely regarded as one of Scotland's most original musicians, she has been involved with a huge variety of bands and projects over the last 25 years, including the bands Bachué (with pianist David Milligan), Shine (with Mary Macmaster & Alyth McCormack) and the Scots supergroup the Unusual Suspects.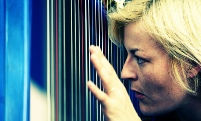 Emily Smith and Jamie McClennan
Award winning Scottish singer Emily Smith and New Zealand born songwriter and multi-instrumentalist Jamie McClennan have worked together for almost twenty years. With sublime double vocals, guitars, accordion and viola their original material draws influences from folk, Americana and beyond. Performed with heart and consummate craft the result is an intimate, accessible and ultimately uplifting performance.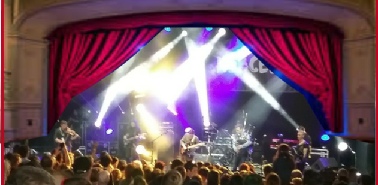 Alistair McCulloch
Alistair is one of Scotland's best fiddle performers and teachers. Based in Ayr, he has permission to perform on the Gregg fiddle originally belonging to Robert Burns's dancing master. Past winner of many fiddle championships, Alistair is fiddle instructor at the Royal Conservatoire of Scotland, tours with the Alistair McCulloch trio and runs a fiddle weekend called "Land o' Burns."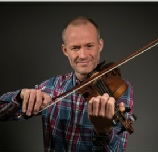 If you can, please donate to the musicians! For over a year, these players have lost gigs and income. It's a delight for them to play and for us to listen – thank you!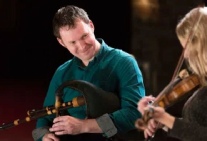 Free online concert by some of Scotland's best musicians!
These great musicians are among those who join us during our summer music & walking tours in Scotland – info is at the link above about these trips, co-led by Dorothy and Ed, who will host this concert. Enjoy the music & a few photos of Scotland as well! Due to the pandemic, we can only visit virtually this summer – but in this concert we can all have a taste of the variety of instruments, musical styles, and scenes from Scotland.